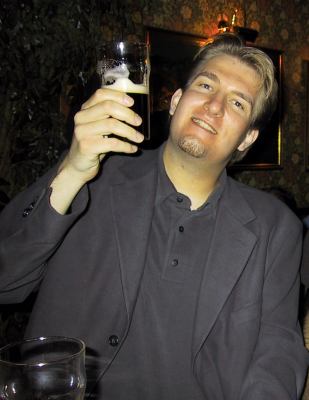 Me with a Guinness at the local pub
I'm a 40-something year old hacker (aka. systems designer aka. software engineer aka programmer).
Before starting my own business I worked with offshore surveying software (gps's, gyros, echosounders aso.) that was a windows job and it taught me how defective windows (VC++ and MFC really) is and that to stay sane I'd have to stick with POSIXy platforms (mainly Linux, Solaris & OSX).
From the windows thing I went on to work on Solaris and Linux in Java, C, C++, Perl and Python.
Now, I do software development and release engineering at Stibo Systems, involving such things as Linux, Java, Perl, Solaris, Windows and Oracle.
Other projects I've worked on are:
Open Space Aarhus I'm a founding member and board member of OSAA, which is the space part of the hackerspace in Aarhus.
PhotonSaw: I designed and built the Open Source Laser cutter that lives at Open Space Aarhus, from the ground up.
Nr. Vissing Net I do the technical side of a little wireless ISP.
SE2k - Scene Event 2k: I'm one of the founding fathers of this party (started in 1995 by me and Lasse Klok Mikkelsen), but many people donate their time to make this the best demo party of the summer each year.
NiL: I started it while being unemployed one month a couple of years back, but now I don't have the time to play with it...
eLinks I added HTML4 access keys and tabindex support, it's used in the POS terminal for the PTN project
DBD::ODBC I hacked in and debugged support for SAP DB, before that I tried for a year to make SAPs own DBD::SAP_DB work, but without complete luck. SAP DB (now aka. MaxDB) has stagnated and is now unusable on modern platforms, so if someone asks me about DBMSs now I recomend PostgreSQL.
FABEL I was one of the people that thought up the Danish anti-spamming organization, luckily we don't have much spam in Denmark, so not much has gone on there lately.