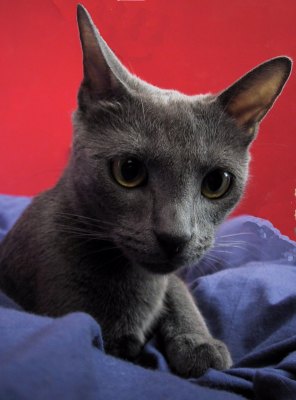 My cat, petra, taken in my bed.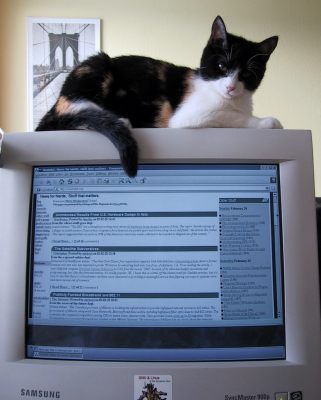 My ex-cat; Maggie, taken at work.
Bribery or presents
If for some reason you need to give me a present or bribe me then here are some suggestions, you could also look at my actual wishlist if you want.
Number 1 bribe: Eating out
I like eating out and the city of Aarhus has several really good restaurants that I can reccomend:
Number 2 bribe: Whiskey and beer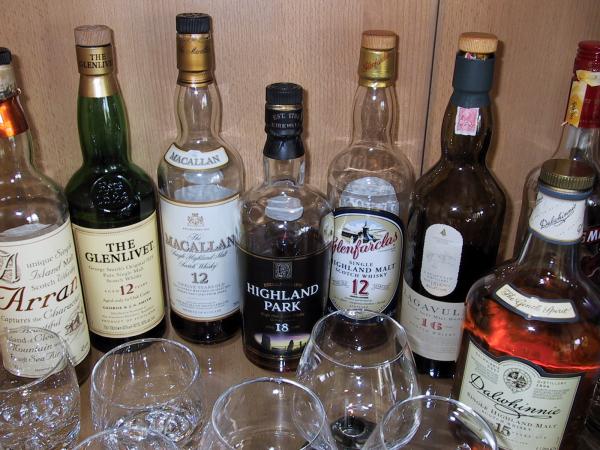 A view of my whisky-shelf
The whiskies that I currently have are:
Arran, no age: Very young (they only started in 1995 I think) but still interesting.
Bowmore, no age: big (1l), cheap and good for cooking, I ran out it seems.
Glenlivet, 12yr: Smooth and a little one the light side.
Macallan, 12yr: Good, but not fantastic taste, I much prefer the Glenfarclas to this one.
Highland Park, 18yr: Exelent, complex, yummy.
Glenfarclas, 12yr: Almost as good as the 21yr old, but a great whisky in its own right.
Lagavulin, 16yr: Briliant, strong, salty, big, the first bottle I emptied, this is number 2.
Dalwhinnie, 15yr: Light and fruity, perhaps a little too light.
If you are in need of a present (or a bribe) for me then print this page and show it to the local whisky dealer and he will have at least 10 different bottles all over the pricerange that I will like.
However a rough guide is: Scotch, Single malt (no blends!), older than 12 years (the optimum age depends on the particular malt), but no glenfiddish (good for children and older people, though) and nothing I have on my shelf already (that would be boring).